For cake recipes to be delicious, it's not essential to have far-fetched ingredients or decoration worthy of a showcase. A good connoisseur of cakes knows that the secret to this dessert being the unanimity of ten out of ten "what a sweet tooth", lies in the soft dough, flavor and ease of making the recipe at home.
So, thinking about that afternoon coffee that is always better with a cake, we have separated 41 cake recipes that are delicious to try with family or friends.
The Delicious Chocolate Cake:

The chocolate cake is the darling of many people, from children to the elderly. It is a great option to be served as a dessert after main meals, or as a quick snack in the middle of your day.
As it pleases in many situations, it is a cake that can be made frequently, but so that the flavor doesn't fall into the routine, you can innovate with different fillings, toppings and ingredients that, if added to the recipe, will create a unique touch.
1. Three chocolates cake:
How about preparing a cake that has a dough with a special taste of cocoa powder, dark chocolate and a frosting that takes the last ingredient plus butter? The preparation is not laborious, but the flavor is very different from the traditional one.
2. Amazing chocolate cake:
If you want a very soft dough and one of those crumbly toppings, this is the ideal recipe. Time in the kitchen is minimal, but it will be difficult to eat just one piece of cake, so it's worth a try.
Want a very simple cake, one of those that doesn't even have a topping? This can be a good recipe option for you, as the dough is made in a blender, all you have to do is mix all the ingredients and then take the sweet to the oven to bake.
4. Grandma's Chocolate Cake:
How about preparing a chocolate cake that is simple but has an extra touch of flavor? This recipe suggests that you prepare a filling of chocolate, condensed milk and heavy cream. To finish the candy, use a brigadeiro topping.
5. Chocolate mug cake:
When time is short or we want an individual portion of cake, this recipe that is made in the microwave can be a great option! The result of the dough is no different from what is baked in the oven, but it is still worth trying.
6. Flour-free chocolate cake:
In addition to not having flour in its preparation, this cake is also sugar-free and low in carbohydrates and fat. The cake grows a lot, but withers a little after coming out of the oven. Even so, its dough is soft and moist.
7. Chocolate ganache cake:
To start, prepare the ganache. Once it's ready, you add the other ingredients to the ganache and just take it to bake. This cake is soft, moist and with a crunchy crust.
Even with little time, it is possible to prepare a tasty cake. The method of preparation is very simple, you must mix all the ingredients mentioned in the recipe and microwave at power 10 for 7 minutes. After that time, skewer with a fork, if not ready, you can leave it for up to 5 minutes.
9. Triple chocolate cake:
How about preparing a cake that has cocoa powder and dark chocolate in the dough, plus a frosting? The preparation is very practical, but you need to follow some tips for a successful result, such as lining the form with aluminum foil.
10. Iced Chocolate Cake:
Hot days call for refreshing desserts, don't they? So, how about preparing this delicious iced chocolate cake recipe? The result is incredible, but the time in the kitchen isn't long, you can bet.
11. Nutella Cake:
Using just nutella, wheat flour, eggs and yeast you can prepare an incredibly tasty cake! A tip is not to let it bake for too long, as the dough can dry out.
Strawberry Cake Recipes No One Can Resist: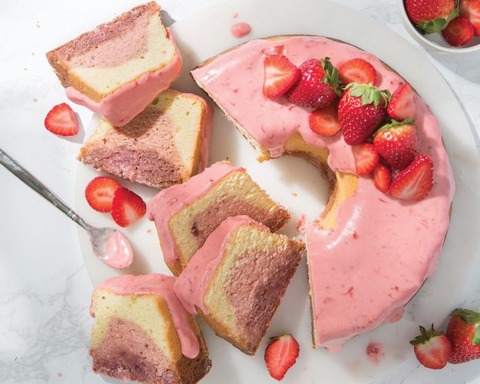 Whether for dessert or even snack time, Simple Strawberry Cake Recipes go great. And, even without a lot of work in the kitchen, you can get a sweet full of flavor and that makes your mouth water just by looking. To learn how, check out the recipes we've selected and throw yourself in the kitchen!
12. Strawberry and yoghurt cake:
Molhadinho, sour and with a touch of lemon and yoghurt, the result is a delicious cake, so no one can find fault! When you want a change, you can substitute fresh strawberries for raspberries, blackberries or blueberries.
13. Strawberry and crumble:
cakeA beautiful, mouth-watering cake. You will need all-purpose flour, sugar, ground cinnamon, salt, cold butter, egg, plain yogurt, baking powder, and chopped strawberries.
14. Vegan Strawberry Cake:
A cake with syrup that, after being iced, is even more delicious. The mixture of sweet and sour strawberry syrup is the highlight of this recipe. In addition, the cake is beautiful with the syrup running and the strawberries on top.
15. Strawberry Pudding Cake:
Perfect option for you to make on special dates and serve to the whole family or friends! It's a beautiful pudding cake, easy to make and it is delicious… It's worth writing down the recipe!
16. Simple strawberry cake from a blender:
To make the cake with a strong strawberry flavor, the tip is to beat the fruit with the dough in a blender and, when it's in the pan, whole strawberries and sugar are used as a topping. Thus, the appearance is charming even with little work.
17. Strawberry Cake Gluten-Free and Lactose Free
With a blender dough, you won't waste a lot of time making this recipe. Without milk, with rice flour and quinoa or oat flakes, you get a gluten-free and lactose-free cake. Even so, the flavor will surprise your palate.
18. Strawberry Ice Cream Cake:
A success on hot days, the ice cream cake is a great choice for those looking for a refreshing dessert. Here, the dough is moistened with a strawberry sauce. To finish, the tip is to use grated coconut and strawberry.
19. Simple strawberry cake with vanilla extract:
In this recipe, the proposal is to flavor the cake with vanilla extract. This is a simple ingredient, but it makes all the difference in flavor. Strawberries will be put in pieces in the dough when it is ready. And there's more: the finish is on account of a lemon topping.
20. Simple strawberry cake that comes out with frosting:
A caramelized strawberry frosting that comes out of the oven is perfect for those who want practicality. In addition, the fruit is also used in the preparation of dough. To make it even better, this recipe is free of animal ingredients, so it's free for vegans.
Easy Lemon Cake Recipes:


Lemon
cake is one of the cake recipes that can be made in its simple version, great to accompany that warm coffee in the late afternoon, but it can also have several combinations and flavors, being a great option to be served as a dessert after a meal, or even at a party.
With other fruits, stuffed, with toppings, in the naked version, without gluten or lactose and even vegan, the lemon flavor can conquer different tastes. Just choose the recipe with the ingredients that best match those who are going to taste this delight.
21. Greek yogurt cake with lemon zest:
A very fluffy, airy cake; with simple ingredients (eggs, Greek yogurt, oil, sugar, lemon zest, flour and yeast) and practical preparation. Finished with sugar, it has that late-night face of prose around the table.
22. Yogurt cake and lemon zest from a blender lemon:
This recipe uses only zest, not juice, but it's enough for the sour flavor to give the simple cake a fuller taste. The dough is made in a blender and is very fluffy, soft. What more can we expect from a cake?
23. Lemon Cake with Gluten-Free Yogurt:
This recipe is the Italian version of Granny Cake, and like a good Granny Cake, it has tricks in the preparation and secret between the ingredients - everything simple, but that guarantees a soft and full of flavor cake . The trick: the ingredients are measured in the yogurt pot itself, so you can't go wrong with the proportion! The secret is to use snow whites and cornstarch to build the perfect texture. And, because it doesn't have wheat flour, it doesn't have gluten!
24. Lemon Cake with Greek Yogurt and Blackberry:
The classic combination of lemon and yogurt gains, with the addition of an ingredient, more moisture, more color and, of course, more flavor. In addition to being delicious, this recipe may be the best option for those with dietary restrictions, as it does not contain gluten and, depending on the yogurt used, it may not contain lactose.
25. Easy Lemon Cake:
It has the delicate flavor of lemon and is not cloying at all. You will want to eat lots of pieces! The recipe is simple and quick to make.
26. Lemon Quick Cake:
A handy recipe in which you'll basically use sugar, butter, all-purpose flour, eggs, baking powder and lemon. Afterwards, the tip is to melt a dark chocolate and throw it on top.
27. Blender Lemon Cake:
Easy to make, this cake is also economical. A great choice for breakfast or an afternoon snack. Not to mention that the "crust" of sugar with lemon is amazing!
28. Two lemon cake:
It is fluffy, tasty and is very easy to make. It is a super basic dough with lemon zest and a quick topping of condensed milk with lemon juice.
As the name implies, the result is a delicious and light cake. You will need eggs, sugar, sour cream, lemon, wheat flour and yeast. On top, you can use a generous layer of Nutella.
30. Green Lemon:
CakeA delicious and beautiful cake that can be served chilled. You will only use eggs, oil, plain yogurt, lemon jelly, lemon cake mix, baking powder, condensed milk, and Tahiti lemon.
31. Lemon cake with lemon syrup:
A simple and tasty cake. The recipe does not yield a large cake and it is very thin. For that reason, you shouldn't leave it in the oven for too long!
32. Lemon cake with icing:
A simple but tasty version that mixes sweet and sour, guaranteeing the ideal flavor. Soft, the cake is covered with frosting, it is very firm and moist. But, it is worth mentioning, it is not a fluffy and light cake, it is more "heavy".
33. Lemon Cake with Creamy Topping:
One of those mouth watering cakes. For the dough, you will need eggs, oil, milk, vanilla essence, lemon, wheat flour, sugar and baking powder. For the topping, you will use condensed milk, lemon and sour cream.
34. Lemon cake "Suga Mama":
A simple cake to make and a great option for an afternoon snack, accompanied by a freshly brewed coffee. You will only need butter, wheat flour, baking powder, sugar, milk, eggs and lemons.
35. Lemon cake in the pot:
A very practical suggestion to serve a cake, whether at a birthday party, on a picnic or after a special lunch, for example. It looks beautifully presented and is easy to carry.
36. Simple Sicilian Lemon Cake:
A simple and tasty cake, ideal to accompany a cup of coffee. The topping is made with icing sugar, juice and lemon zest.
Simple Cake Recipes That Will Save Your Afternoon Snack:

Simple cake resembles afternoon coffee at grandma's house and goes very well with warm tea or coffee. The name of these cakes says it all: they are simple in preparation and appearance, but they have flavors that please many palates. Check out delicious and practical simple cake recipes to prepare at home and be amazed by the taste:
37. Cornmeal Cake:
To start with the list of cake recipes, which, in addition to being simple, have that childhood taste, nothing better than that of Cornmeal cake. This recipe combines the characteristic flavor of cornmeal with the practicality of a blender and results in a cake that is easy to prepare and even easier to be devoured.
38. Orange Cake:
Super light and fluffy, the orange cake recipe goes well for breakfast as well as for the afternoon, as having orange as the main ingredient, the sweet in the recipe is balanced with the citrus tone of this fruit. This cake accompanied by a cup of coffee with milk makes a beautiful combination!
39. Simple cake in a blender:
If you want even more convenience to prepare a simple cake, this is a great option, since it is made in a blender. You just need to blend all the ingredients in a blender and then bake for 30 minutes.
40. Corn Cake:
This cake has a very fluffy texture and is a great choice for breakfast or afternoon. To make it tastier, it is interesting to use the corn that has just been taken from the cob.
41. Simple cake:
The dough for this cake can be made with an electric mixer or by hand, what changes is the time: for the first option, it takes 3 minutes; for the second 5 minutes. The advantage of this cake is that it combines with various syrups and toppings, in case you want to prepare one.